Browse our menu selections
---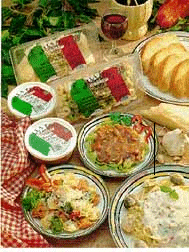 ---
Soups

Minestrone
Clam Chowder
Lobster Bisque

Salads
Etc.

Stuffed Portabella Mushroom Caps
Fried Calamari
Mussels Marinara
Bruschetta
Tortellino Joseph

Tri-colored, cheese-filled tortellini blended with sausage pieces, mushrooms, gresh herbs and plum tomatores with just a touch of cream.

Chicken Rita

Pasta twists with sautéed chicken and oven roasted artichokes in a lemon and caper sauce.

Ritas secret recipe...

Lobster Raviolis

Nestled on a bed of spinach, covered with a rich sun-dried tomatoe cream sauce.

Rigatoni Giardinera

Garden-fresh yellow, green and red sweet peppers with brocolli florets, tossed with a basil and light white wine sauce flavored with fresh sharp cheese.
---
Tiramusu
Canoli
Bread Pudding

---

Return toThe Impastable DreamsHome Page
Return to top.


---

Designed by: LaLu Web Developers
WebMaster: Laura Carter&lt littlelalu@hotmail.com &gt
Updated: 4/03/00

---