At 16 Rosie performed her first stand-up date when she memorized a Seinfeld routine she'd seen Jerry perform on The Tonight Show with Johnny Carson. At 18, she started working the club circuit (she's performed club dates in 47 of the 50 states). Rosie made her television debut as a Star Search finalist in 1984, Rosie was then asked to host and produce VH-1's Stand Up Spotlight. Rosie tried her hand at acting and subsequently appeared in the movies, Sleepless in Seattle, Another Stakeout, The Flintstones, and Harriet the spy, to mention a few.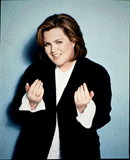 A major turning point in Rosie's life occured when she adopted two-day old Parker Jaren, on May 27, 1995. After the arrival of Parker, she continued to make movies, host charity and awards shows, even do occasional stand-up dates. But she realized that she was missing out on much of her son's childhood. That's when she decided to make a serious career change and become a TV talk-show host. In January of 1996 she inked a deal with Warner Brothers to host a new daytime television show modeled after the Merv Griffin and Mike Douglas variety-talk shows.
But, Rosie is back on the comedy circuit! And she wants to entertain you!
Call for ticket info!
(207) 661-0011